Retaining walls are built to reinforce soil and/or land and prevent erosion and shifting due to gravity. You can learn more about their uses here.
While these structures all serve a similar purpose, there are different types: Gravity Wall, Cantilever Wall, Piling Wall, and an Anchored Wall.
Gravity Wall
This is the simplest type of wall as it uses weight and mass to hold the land and prevent erosion. Typically, a small trench will be dug, and the wall will be built into the earth to ensure that it remains in place.
Since the weight of the wall is key, these are built from any material that has high mass, stability, and longevity. Usually this means they will be constructed of bricks, stone, or concrete blocks.
It is important to note that this type of wall may become unstable, and potentially topple over, as the earth pressure changes. The change in the earth causes the wall piece built into the trench to shift; this is why we also add a small concrete footer to the base of the wall so that shifting does not occur.
Cantilever Wall
These walls are reinforced by steel bars that channel through the concrete or masonry stone in order to relieve some of the horizontal pressure from behind the wall. The beams will allow the force to be shifted from horizontal to vertical pressure which is then displaced into the ground below.
The Cantilever Wall is held in place by an additional slab of concrete that is under the soil in an "L" shape which takes the weight of soil and prevents any movement of the wall itself, as well as negates the risk of tipping.
These walls typically use less materials than a gravity wall, but are constructed from the same types of materials, with the addition of steel.
Sheet Piling Wall
Sheet Piling Walls are used in softer soils and are constructed from steel, aluminum, vinyl, or wood. The material is driven into the ground, at a 2:1 ratio of above ground to in ground. This means that for every ⅔ of the wall that is above ground, ⅓ of it must be dug into the ground.
The depth of the wall, in addition to a tie-back anchor, keeps the wall in place and prevents any shifting.
Anchored Wall
This last type of wall is used when high loads and pressures are expected, as it is reinforced by the use of cables and/or anchors to provide additional stability and strength. Once the reinforcements are driven into the ground, using heavy machinery, they are then expanded due to the addition of pressurized concrete.
Anchored Walls can be constructed in any of the ways above, but what sets them apart is the additional reinforcements.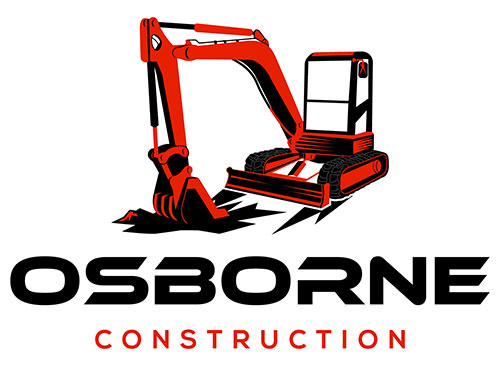 WHAT MAKES US A
TOP 1% EXCAVATION COMPANY?
Licensed, Insured and Experienced Guaranteed
Gold Medal awarded for Ontario Technology Skills Competition (Home Builders Competition)
Insurance Claims Assistance
Outstanding Warranty For All Our Services
"Mark and his team did a great job on our new landscaping project. They dug out and prepared new flower beds for planting, prepared sidewalks for flagstones, and helped with drainage issues on the driveway. Their expertise and attention to detail are just what we needed so we could do the next steps of the project ourselves. I would highly recommend this business for any exterior work!"
"Mark and his crew completed the work on my property on time and on budget. Their expertise really showed when planning my project, scheduling everything, and working carefully in a tight space. I'm really happy with the results, and would gladly work with Mark again in the future!"
"Osborne construction did an excavation, fill, and concrete job on over 5500sqft of driveway and patio space around my home. He finished on schedule, and left the job site clean and ready for the next phase. They're easy to communicate with, and are very knowledgeable. I would highly recommend them. !"
Fill in your information below to get in touch with a representative of Osborne Construction & Excavation Services. We typically respond to all inquiries the same day. Additionally, you can call us at 226-338-5557