Dig into Your Next Project with Osborne Construction – The Best Excavation Service in Kitchener-Waterloo
Do you need an excavation service or are planning a construction project that requires stump removal, retaining walls, or other heavy-duty services before you can finally begin that project you have been so desperately wanting to start?
If so, look no further than Osborne Construction!
Through years of experience and a team of licensed and insured professionals, we promise that no stone will be left unturned.
Whether you are planning on building a new house, installing a new garage, or simply installing a fence, Osborne Construction is happy to tackle whatever residential and/or commercial project you may have in the Kitchener-Waterloo area. 
We take pride in our decades of combined experience and top-notch service to all our clients. We look forward to completing any excavation job you have!
What Exactly is Excavation and Why Do You Need It?
Simply put, it is the process of digging a hole in the ground through the careful and systematic removal of dirt and rock in order to create the base for a strong foundation – prior to starting any project.
Foundations are an integral part of any building or structure, and it is important to create one that will withstand both time and circumstances. Prior to beginning any construction project, the land must first be prepared and cleared to ensure a solid base can be built.
Properly excavating the space can ensure that a structure can withstand all the environmental elements such as extreme heat, extreme cold, rain, and wind. It also ensures that the ground is both durable and stable enough to support the required structure and is levelled (a process called grading) prior to building.
Excavation is required before starting to construct a building, digging basements, putting up a fence, installing septic and water systems, among many other residential and commercial projects.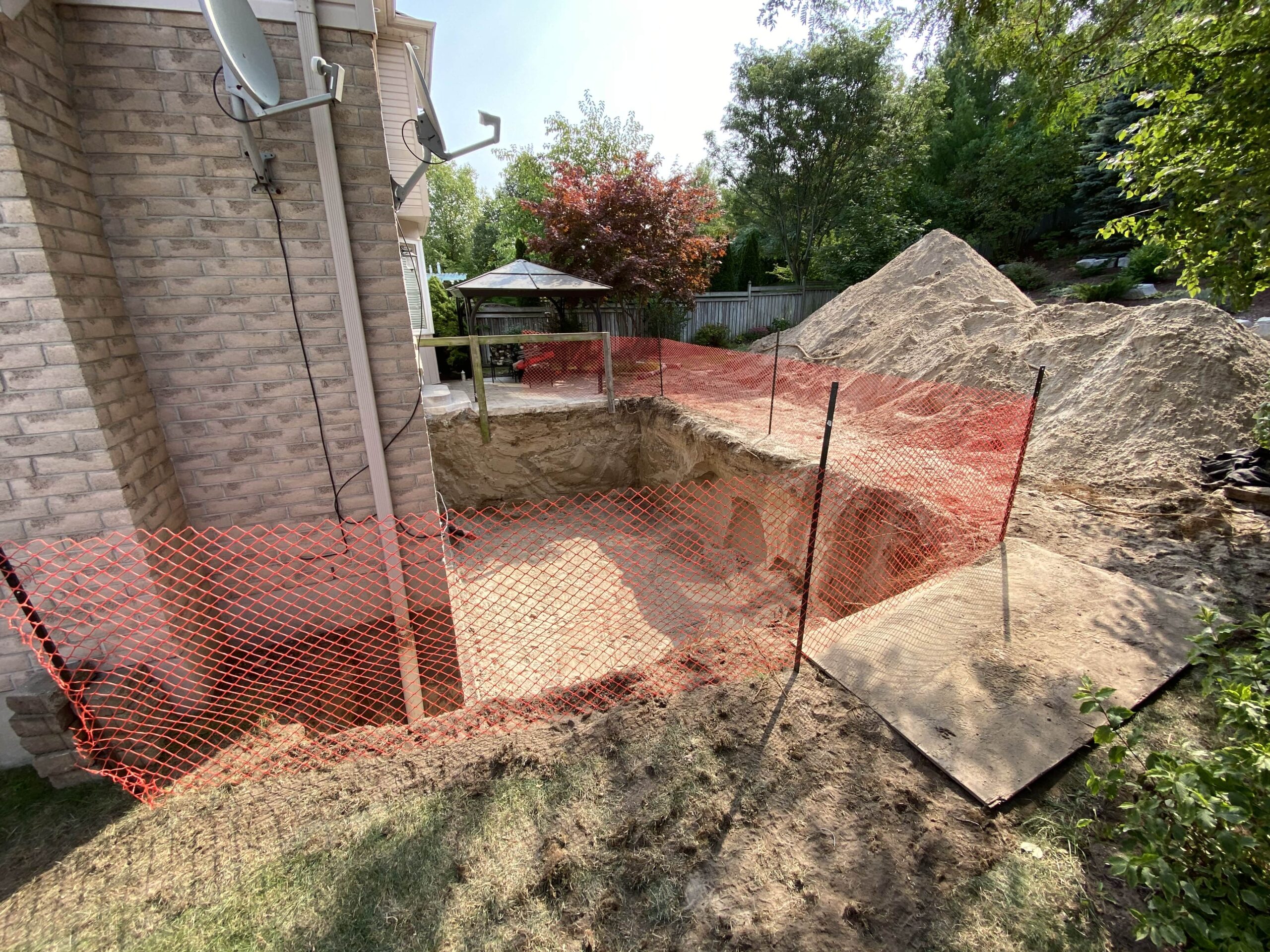 Why Hire a Professional Excavation Service?
The main step required before beginning all outdoor construction projects, be it residential or commercial, is proper excavation. Whether you are planning on putting up a new fence, creating a new walkway, constructing a garage, putting in a pool, or even building a new house, the first thing you will need to do is excavate the land.
Excavating requires a team that is adept and properly equipped to complete the job to ensure the remainder of the project goes forth without a hitch – after all, a strong foundation is the start to any great structure. With Osborne Construction, you can rest assured that due diligence is taken from the time of the initial FREE consultation, all the way to the final grading of the land.
It is important to remember that every building site has unique characteristics, such as environmental factors, soil stability, etc. and all these must be considered prior to beginning the project – this is where we can help. We are knowledgeable about soil stability, backfill quality requirements, and water tables, and we use this knowledge when planning out the site so that the foundation for the structure will last. Our team of experienced professionals are able to properly identify any potential issues such as water tables or soil stability; we also take the appropriate steps to prepare the space for a foundation.
By hiring out to a professional service, like us, you can be guaranteed that any and all issues with the land will be addressed and taken into consideration prior to the start of the project.
The excavation process is quite intricate and requires plenty of time and precision – this is why it is important to hire out for this service. Osborne Construction is educated, well-versed in excavation services and we offer award-winning service.
We use only the highest-grade supplies and Bobcat brand machinery so that you don't need to stress about renting any equipment!
Following a detailed and systematic process when digging land is key. We ensure the following steps happen during the process:
Conduct compaction testing
Prepare the Site
Before we start digging, we ensure that we know what is underneath the surface we are digging out. This is to make certain we steer clear of any power lines or pipes and is done through consultation with the municipality and local utility companies.
Once the site is prepped and we are given the greenlight, we begin by clearing the area that will be excavated by removing trees, bushes, rocks, etc., as well as any roots to avoid potential shifting later on.
Staking out the Site
After the area has been prepared, we mark the outline of the area where both the dig and construction will happen. Our team ensures, through multi-verification, that the measurements are accurate and reflect the desired layout from the client.
Rest assured that we will take extra care during this step of the process as this is where any final adjustments or changes to the size of the project takes place.
Excavation service
Once the land has been prepared and the site has been marked, it is time to start digging. We use our own equipment to dig out the marked area using shovels, excavators, and any other type of equipment that is required for the scope of the job. Don't worry about disposal of the dugout earth as our team also takes care of disposing of the removed dirt, rocks, shrubs, etc.
During this part of the job, we test the soil for stability and drainage to ensure no issues will be experienced in the future once the environmental elements come to play.
Compaction Testing
The final and most important step in the process is compaction testing. Compaction testing is used to determine the optimal moisture content for the soil to achieve maximum dry density. Simply put, this is where we determine the firmness and support the soil has so that the structure being built on top will be stable, level, and withstand any environmental wear-and-tear.
Following the compaction test, we fill the space with fill dirt – this dirt will not swell or shrink – which will provide a solid and secure foundation to build on. The last step of this phase is levelling the ground. As soon as each of these steps has been completed, the building phase of the project can begin!
Why Osborne Construction is Your One-Stop-Shop for All Your Excavation Needs
Everyone at Osborne Construction is proud to be Kitchener-Waterloo's leader in foundation excavation, concrete preparation, and retaining wall installation. We combine decades of experience with our fully insured and licensed professionals to guarantee satisfaction to all of our customers.
Our team is fueled by passion and is full of individuals who are continually learning and pursuing further education in order to provide you with the best service possible and exceed your expectations. We pride ourselves in our reliability, time-management, and high-quality services using only the best Bobcat brand equipment.
As Gold Medal Winners at the Ontario Technology Skills Competition we offer both insurance claims assistance and an outstanding warranty on all our services.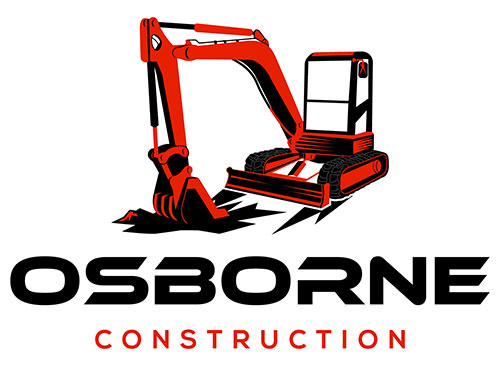 WHAT MAKES US A
TOP 1% EXCAVATION COMPANY?
Licensed, Insured and Experienced Guaranteed
Gold Medal awarded for Ontario Technology Skills Competition (Home Builders Competition)
Insurance Claims Assistance
Outstanding Warranty For All Our Services
"Mark and his team did a great job on our new landscaping project. They dug out and prepared new flower beds for planting, prepared sidewalks for flagstones, and helped with drainage issues on the driveway. Their expertise and attention to detail are just what we needed so we could do the next steps of the project ourselves. I would highly recommend this business for any exterior work!"
"Mark and his crew completed the work on my property on time and on budget. Their expertise really showed when planning my project, scheduling everything, and working carefully in a tight space. I'm really happy with the results, and would gladly work with Mark again in the future!"
"Osborne construction did an excavation, fill, and concrete job on over 5500sqft of driveway and patio space around my home. He finished on schedule, and left the job site clean and ready for the next phase. They're easy to communicate with, and are very knowledgeable. I would highly recommend them. !"
Fill in your information below to get in touch with a representative of Osborne Construction & Excavation Services. We typically respond to all inquiries the same day. Additionally, you can call us at 226-338-5557