There are important differences between traditional excavation and trench excavation. Traditionally, excavation is the process of digging a hole in the ground; whereas trenching is digging a hole where the depth must be larger than the width. They are typically less than 15 feet (4.67m) wide. 
There are various uses for trenches, and they can be dug either manually or through the use of machinery, depending on the use of the trench.
The Different Types of Trenches
Different projects require different dimensions in terms of depth and width of a hole. The dimensions determine the style that will be used. The main types are Straight, Sloped, Benched, and Bell-Bottom Pier Holes.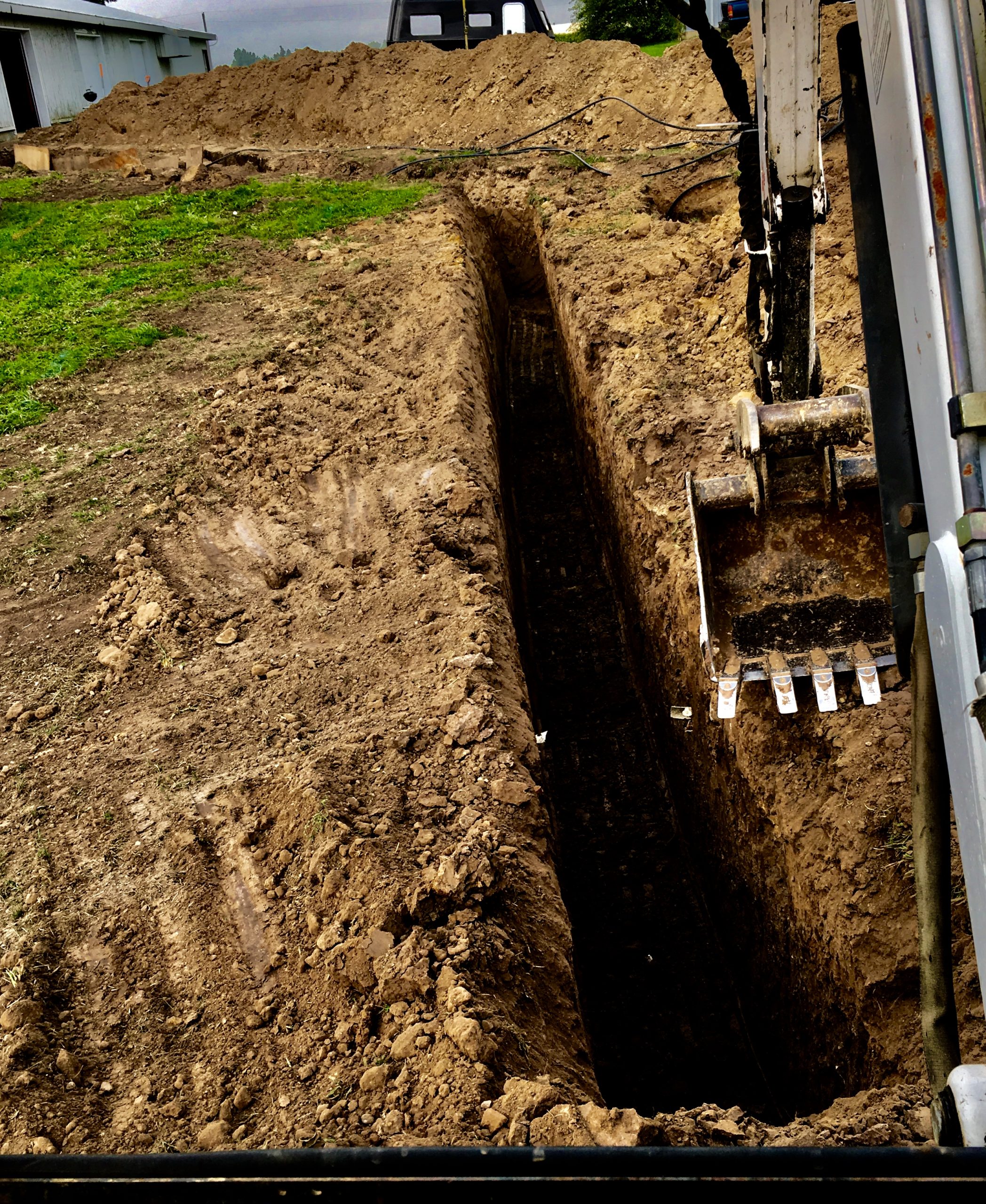 Straight Trenches
These holes are usually dug near buildings or roadways where the width of space available is limited. Both sides of the hole are straight down with no sloping or steps, as there isn't room to expand out.
Due to the narrow nature of this hole, trench shields or sheets are used as a protective system. This system is put in place to protect the workers from the pressures and weight of the soil in a possible collapse.
Sloped Trenches
Used in areas where more space is available, these have angled sides which prevent the possible collapse/cave-in. The slopes are angled in proportion to the depth of the hole, in order to protect workers. These are usually dug when large pipes and utility lines need to be placed underground.
Typically, these are used when other collapse-protective systems are not available on a construction site, but there is adequate width to slope the sides correctly. Another protective system put in place is shielding, as discussed above.
Benched Trenches
The sides of these holes have been cut into steps. The number of steps, and the height of each, is determined by the soil type with deeper angles being used in more stable soils. The bench system is typically used in holes that need to be up to 6 metres deep, and additional support is gained through the use of trench boxes or shielding.
Bell-Bottom Pier Hole Trenches
These holes are bottom-wide, and have a bell-like shape, with the opening being the narrowest part.  The reason the base is the widest part is so that teams are able to work in the base to install footings and supports for a structure.
These have the highest likelihood of collapse, due to their shape, and therefore rely on additional supports to prevent the inward sloping sides from collapsing.
Why Hire Osborne Construction for Your Job?
Trenching follows similar guidelines as basic excavation, which can be found on our website. However, there are further safety regulations that need to be taken into consideration when digging due to the narrow width of the holes, and the extreme depth of some of them. The risks include, and are not limited to cave-ins, flooding, hazardous atmosphere exposure, and contacting buried service lines.
Hiring an external company, such as Osborne Construction & Excavation Services, helps ensure that your project is undertaken with care and that all hazards are taken into account and prevented. We also work with the highest-quality machinery in Bobcat Brand to ensure that your project has the result that you want.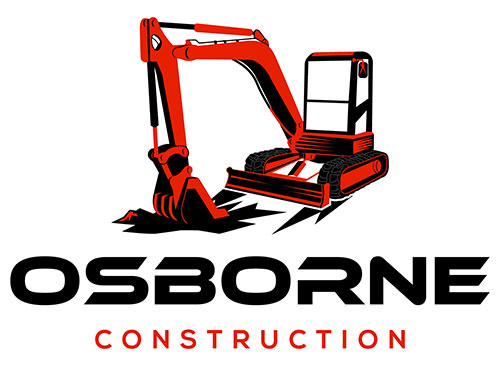 WHAT MAKES US A
TOP 1% EXCAVATION COMPANY?
Licensed, Insured and Experienced Guaranteed
Gold Medal awarded for Ontario Technology Skills Competition (Home Builders Competition)
Insurance Claims Assistance
Outstanding Warranty For All Our Services
"Mark and his team did a great job on our new landscaping project. They dug out and prepared new flower beds for planting, prepared sidewalks for flagstones, and helped with drainage issues on the driveway. Their expertise and attention to detail are just what we needed so we could do the next steps of the project ourselves. I would highly recommend this business for any exterior work!"
"Mark and his crew completed the work on my property on time and on budget. Their expertise really showed when planning my project, scheduling everything, and working carefully in a tight space. I'm really happy with the results, and would gladly work with Mark again in the future!"
"Osborne construction did an excavation, fill, and concrete job on over 5500sqft of driveway and patio space around my home. He finished on schedule, and left the job site clean and ready for the next phase. They're easy to communicate with, and are very knowledgeable. I would highly recommend them. !"
Fill in your information below to get in touch with a representative of Osborne Construction & Excavation Services. We typically respond to all inquiries the same day. Additionally, you can call us at 226-338-5557