Nothing is worse than walking down the stairs and finding out that you need a leaky basement repair, be it major or minor, in your home or establishment. Invasive water is one of the most dangerous things that can happen to a home. Not only can it ruin the possessions you have put in that area, but it can also be detrimental to the foundation of the house. Over time, if left untreated, that small leak in your home can have a catastrophic outcome that ends up costing you tens of thousands of dollars.
There are many different factors that can cause water damage. Among the most common are dishwasher leaks, broken or leaky pipes, groundwater seepage, leaky roofs, doors, windows, or siding, and extreme weather. While there are precautionary steps that can be taken to reduce the likelihood of needing a leaky basement repair, such as waterproofing, it is important to understand the different ways to correct a leak should the issue arise.
Can you fix a leaky basement from the inside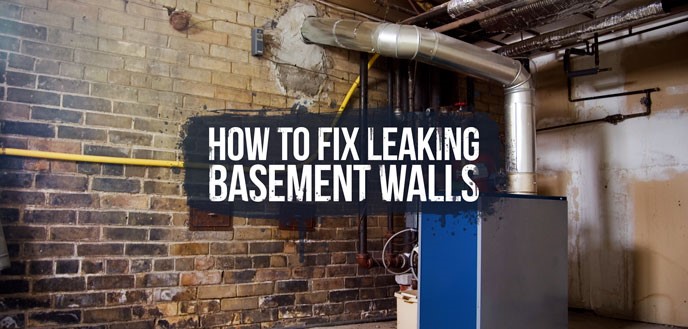 One of the most common questions asked when it comes to a leaky basement repair, is whether the issue should be fixed externally or internally. Prior to deciding if this fix should be made inside or outside the home, it is important to do a thorough investigation to determine where the water is coming from. Acting on this matter is critical, and not taking indoor water pooling seriously can lead to massive destruction.
The first step in resolving this issue is finding the source of the water. Typical causes of basement flooding or unwanted water are leaky doors and windows, sump pump failure, broken or cracked pipes, hot water tank failure, and cracks or holes in the foundation.
Once the area of cause has been identified, the next step is to determine how to fix it. There are usually two options for this, as stated above. It can either be corrected externally (from outside the house) or internally (from inside the house). The decision on if you need a leaky basement repair should be done by a licensed professional following an investigation of the premise.
When doing any type of construction, two of the factors' people usually take into consideration are the efficacy and the cost. In the case of most water damage, the fix can be done internally. By fixing the leak this way, you will avoid having to excavate the property by disrupting the soil around the house or do any major construction, such as removing fences or being cautious of utility lines. Eliminating the excavation process helps to get the issue fixed in a time-efficient manner.
If the leak needs to be fixed from the outside, our team at Osborne Construction is more than prepared to excavate the property and ensure all by-laws and codes are followed. In addition, if you are looking to simply waterproof your basement before any damage can occur, contact us today to set up a free assessment on waterproofing your home.
A simpler, just as effective, approach to fixing a leak is patching the crack or hole from the inside. At the time of fixing the hole or crack, a full assessment of the entire basement will be done to prevent any future damage.
In order to fix the leak from the inside, a professional can use a few different methods. Mainly, installing waterproof wall panels or sealing the wall crack. Installing waterproof panels on the inside of the home, in conjunction with a proper drainage system, will prevent any water that enters the unit. Alternatively, if there are just one or a few cracks in the walls or ground, they can simply be sealed with polymer. This is a quick and easy approach that can be done in a matter of hours.
There is no time like the present to get ahead of any potential flooding or leaks that may occur on your property. Contact Osborne Construction today to have our team assess your basement, or any other area of your home, to ensure your walls, windows, and doors are all sealed properly. Should our team come across any potential sources for damage, we will happily set up a time to rectify the potential issues.
Osborne Construction is excited to help you with all your excavation needs.